Established in 2018, Vinpost Pty Ltd makes galvanised steel vineyard trellis solution for the wine industry.
Produced in South Australia and made from 100% Australian made  2mm thick, roll formed, galvanised steel, Vinpost is 100% Australian Designed Manufactured and Owned.  Talk directly to the guys making the product. p : 0439860499.
This video shows the installation process of the VinPost Repair
The Vinpost Repair is simply the most cost effective way to repair broken pine vineyard posts.
The VinPost Repair posts offer the vigneron the ability to quickly, safely and efficiently repair broken pine posts by reusing the existing pine post & clips.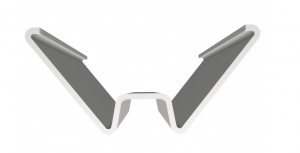 CAD designed, for maximum strength, the unique 'W' shape offers rigidity to the VinPost Repair beyond anything on the market. Additionally the VinPost Repairs design ensure it hugs and grips onto the broken pine post. This conceals the sharp edges of the steel post.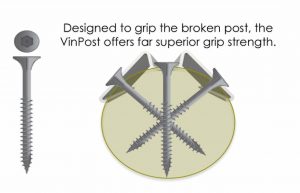 The "W" shape offers other unique features that none of the competition offer. When the screws are inserted into the broken post they do so at a 90 degree angle. This stops the timber post pulling away from the VinPost when load is applied to the timber post.
Additionally the "W" shape spreads around larger posts and pulls in tight around thinner posts. One of the most significant beneficial feature of the VinPost Repair is the manner in which they can be installed. Both the Repair and Sentinel can be installed with the "J-Wack". This allows both the VinPost Repair & the VinPost Sentinel to be installed without damage to the canopy or the trellising.
Why the VinPost Repair.

Only $7.00 each ex gst.
250 VinPost per Bundle (QDA available)
Free "J-Wack" with your first bundle ordered.
FREE Freight for orders over 1000 posts.
Special Features
CAD designed for Max strength
Vinpost is 1100mm long so it offers better hold both in the ground and up the post.
Vinpost hugs the broken post, which makes it more secure.
Vinpost has no exposed sharp edges, so it's less likely to  damage machinery.
Vinpost's pointed end ensures reduced resistance during installation.
Vinpost is driven 5-600mm into the ground, 
Vinpost's offers 10 screws holes offer superior hold.
The Vinpost "J-Wack" takes the impact point away from the canopy and wires, allowing repairs right up to harvest.
We recommend Bremick 75mm galvanised batten screws .
Vinpost Reuses the existing wire trellis and broken post.
Reduces the time, reduces the cost, reduces damage to the canopy and the reduced risk of injury, makes the Vinpost repair solution simply the best option for repairing broken pine vineyard posts.
For more information Call Mat
p : 0439860499
This Video shows the the harvester running over the repaired broken post.

VinPost recommend and supply Bremick 75mm galvanised batten screws.